At BROWNS, we have a really really special Intensive General English programme. Essentially what we do is, we divide the classes into CORE Classes,
Active8 Classes
and
Accelerate Further Learning
. So it's called BROWNS Active8 Accelerate Learning Programme. Essentially in the morning, you have one teacher - Monday to Friday, and you focus on course book based class so we use something like this in our classes. And in the morning class, we have an integrated syllabus where we look at listening, speaking, reading, writing, pronunciation, vocabulary, grammar and functional usage. Functional usage is, "How do I complain about my coffee in a coffee shop?" And if you want to be a fluent user of English, you need presentation and practice of all of these areas. So, some students, they might have really beautiful speaking fluency but their accuracy is not correct, and that is because they are not looking at vocabulary and grammar and all of these other areas that feed in. So at BROWNS we focus on Active8, the four skills and the four systems that make up English. Every Monday, in your class, in the second hour, you will have a Revision test. So this checks your previous week's learning. So It's not meant to be a scary test, it's meant to be another learning tool for you to see, "have I understood what happened in class".In the third hour every Monday, we mark the test together, as a class. So it's your chance to ask more questions like, "I didn't understand that area about present perfect, please explain it again". So that's the core class in the morning. In the afternoons, we have our Active8 Afternoon Program. So this is where we put you into different skills and systems based classes, depending on your level. So, for example, your grammar level might be B1, but your listening level might be C1. So we will put you into two different classes. We wrote this whole syllabus based on the Common European Framework (CEF). So the CEF says that language learners of any nationality have certain characteristics and certain language levels from A1, A2, B1, B2, C1 to C2. So that's how we divide you into our skill classes in the afternoon. So on a Monday afternoon, you look at pronunciation, Tuesday you go into Vocabulary and reading, Wednesday is writing, Thursday is one hour of grammar and one hour of functional usage, and Friday is listening and speaking. So that really helps you push that area where you might be a little bit weak and improve the areas where you are already strong. Then, we have BROWNS Accelerate Further Learning Programme. So, for this we use
BROWNS passport system
. Now, imagine that there is an area of your learning that you might have missed out on or you might be particularly weak but no body else in your class is. So every Monday during that test, your teacher collects your BROWNS passport and writes advice particular to you for you to study during Accelerate that week. Each day, for one hour, you go to the Accelerate Further Learning Programme and focus on this area that the teacher has asked you to do. The next week, your teacher then checks your passport, and makes sure that you've followed the advice and then gives you more advice so that you improve really, really quickly. The BROWNS Core programme is 10 weeks. So we actually have an English Level Guarantee that says that you will move up a level in 10 weeks if you follow our work and do your homework and go to Accelerate. We also give you a workbook so you can study at home and it comes with a Multi ROM so that you can do extra practice as well whenever you want to. It has really good activities on it as well as other listening material. So that's the BROWNS General English Programme.
Duration:
1 to 71 weeks
Course Start Dates:
You can start the Intensive General English course on any Monday
Campus:
This course is available at any of our two campuses: Brisbane and Gold Coast
Course Description:
• Beginner to Advanced (6 Levels)
• 20 hours in-class and 5 hours Accelerate and homework review
• 10 weeks per level
• Daily coursebook-based core lessons followed by afternoon Active8 skill and system based lessons
• Access to a variety of teachers and teaching styles
• Weekly revision tests and structured teacher feedback
• Students progress through levels as their abilities improve
• Students are provided with coursebooks in accordance with coursebook entitlements
Entry Requirements:
Beginner English language level or above
Student, Working Holiday or Visitor visa
CRICOS Code:
076222B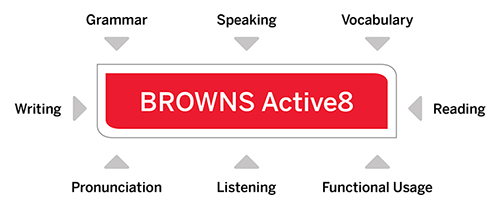 Sample Timetable (Schedule A)
Time
Monday
Tuesday
Wednesday
Thursday
Friday
8.20 – 9.20
CORE class Revision
CORE class
CORE class
CORE class
CORE class
9.30 – 10.30
CORE class Revision test
11.00 – 12.00
CORE class Test answers
Active8 Vocabulary & Reading
Active8 Writing
Active8 Grammar
Active8 Listening & Speaking
12.10 – 13.10
Active8 Pronunciation
Active8 Functional Usage
Lunch
14.10 – 15.10
Accelerate
Accelerate
Accelerate
Accelerate
Accelerate
Sample Timetable (Schedule B)
Time
Monday
Tuesday
Wednesday
Thursday
Friday
8.50 – 9.50
CORE class Revision
CORE class
CORE class
CORE class
CORE class
10.00 – 11.00
CORE class Revision test
11.10 – 12.10
Accelerate
Accelerate
Accelerate
Accelerate
Accelerate
Lunch
13.10 – 14.10
CORE class Test answers
Active8 Vocabulary & Reading
Active8 Writing
Active8 Grammar
Active8 Listening & Speaking
14.20 – 15.20
Active8 Pronunciation
Active8 Functional Usage
Sample Timetable (Schedule C)
Time
Monday
Tuesday
Wednesday
Thursday
Friday
9.30 – 10.30
Accelerate
Accelerate
Accelerate
Accelerate
Accelerate
10.35 – 11.35
CORE class Revision
CORE class
CORE class
CORE class
CORE class
11.45 – 12.45
CORE class Revision test
Lunch
13.45 – 14.45
CORE class Test answers
Skills Practice
Skills Practice
Skills Practice
Skills Practice
14.55 – 15.55
Skills Practice
Related Articles
Lorem Ipsum is simply dummy text of the printing and typesetting industry. Lorem Ipsum has been the industry's standard dummy text ever since the 1500s, when an unknown printer took a galley of type and scrambled it to make a type specimen book. It has survived not only five centuries, but also the leap into electronic typesetting, remaining essentially unchanged. It was popularised in the 1960s with the release of Letraset sheets containing Lorem Ipsum passages, and more recently with desktop publishing software like Aldus PageMaker including versions of Lorem Ipsum The […]
---
Lorem Ipsum is simply dummy text of the printing and typesetting industry. Lorem Ipsum has been the industry's standard dummy text ever since the 1500s, when an unknown printer took a galley of type and scrambled it to make a type specimen book. It has survived not only five centuries, but also the leap into electronic typesetting, remaining essentially unchanged. It was popularised in the 1960s with the release of Letraset sheets containing Lorem Ipsum passages, and more recently with desktop publishing software like Aldus PageMaker including versions of Lorem Ipsum. the […]
---
We have been working together on a class project, analysing different types of poetry from the 1600s to today's English. We have studied many poetic structures including those with rhyme encompassing assonance and alliteration. From analysis and vocabulary building, the students created their own individual poems and worked together as a group to enhance each work. This […]
---
Many language learners share the common experience of reaching a point in their studies where they cease feeling that they are improving. At lower levels, as key words and grammatical concepts are incorporated, improvement is noticeably apparent and learners frequently feel a sense of achievement. However, at higher levels, when the basics have been mastered, […]
---
Lorem Ipsum is simply dummy text of the printing and typesetting industry. Lorem Ipsum has been the industry's standard dummy text ever since the 1500s, when an unknown printer took a galley of type and scrambled it to make a type specimen book. It has survived not only five centuries, but also the leap into electronic typesetting, remaining essentially unchanged. It was popularised in the 1960s with the release of Letraset sheets containing Lorem Ipsum passages, and more recently with desktop publishing software like Aldus PageMaker including versions of Lorem Ipsum The […]
---